The SPECjbb®2015 benchmark has been developed from the ground up to measure performance based on the latest Java application features. It is relevant to all audiences who are interested in Java server performance, including JVM vendors, hardware developers, Java application developers, researchers and members of the academic community. The SPECjbb®2015 benchmark is available for purchase via the SPEC order form.
This new release contains changes to the benchmark code, run scripts, and documentation. For a list of changes in the SPECjbb®2015 benchmark relative to the retired SPECjbb®2013 benchmark, please see the release notes.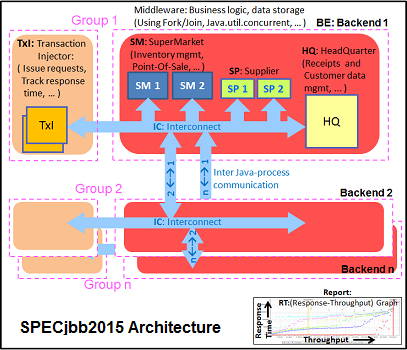 Features include:
A usage model based on a world-wide supermarket company with an IT infrastructure that handles a mix of point-of-sale requests, online purchases and data-mining operations.
Both a pure throughput metric and a metric that measures critical throughput under service level agreements (SLAs) specifying response times ranging from 10ms to 100ms.
Support for multiple run configurations, enabling users to analyze and overcome bottlenecks at multiple layers of the system stack, including hardware, OS, JVM and application layers.
Exercising new Java 7 features and other important performance elements, including the latest data formats (XML), communication using compression, and messaging with security.
Support for virtualization and cloud environments.
---
Results
Includes all of the results submitted to SPEC from licensees of the benchmark.

---
Information
Benchmark Documentation


Installation, build, and runtime issues raised by users of the benchmark. (Last updated: September 23, 2015)